As part of my project I decided I would implement blogging into my class. I wanted to use a platform like WordPress for a few reasons:  Most of my students dislike technology, so I wanted them to become more familiar with technology. I wanted my students to display their course work on their blog in order to improve their typing skills and work on their spelling and grammar. I also wanted my students to create a weekly blog based on their employability for the semester. And I wanted it to act as a portfolio for them to demonstrate jobs they have learned in the shop for a future employer. All of these lessons would support the ELA curriculum, promote digital literacy, but I also needed to include a unit on Digital Citizenship.
To say I receive backlash from the blogging assignment is an understatement. I find some students are flourishing, while others are doing pretty well, and some are shutting down. Others will complete the tasks well, and properly, but will complain the entire time.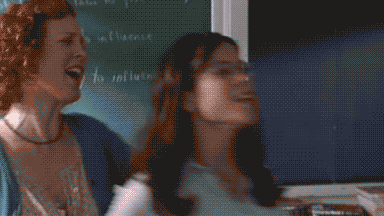 I would just like to say that this Giphy may reflect how I felt, BUT I DID NOT ACT ON IT!
Last week, as part of my project with Anne Wells, I started a discussion with my classes about Digital Citizenship. We brainstormed what they thought it was, and what role schools should play in teaching Digital Citizenship. Some students were very educated, while others had no idea what the term meant.
I was surprised with their answers, and decided to use this as a basis for our first lesson. I developed a short survey based on their technology use, and some of their complaints.
I am even finding that some of my students who use their cell phone the most in my class, complain the most about the blogging assignments. I also wanted to see how much they knew about digital literacy, or where they fell along lines of cell phone use in class, and posting/commenting online (digital health). You can see my survey here. My intention will be to give the students the same survey at the end of the semester and see where they fall.
We then talked about the survey in detail. My students had useful comments and healthy discussions about internet use. They also talked about sharing stories before checking facts, and posting rude, or inappropriate comments. We related back to our class, and how all of those topics could affect their future employment and lives, but also understanding the psychological impacts.
Using the articles from class, and online aids, I created a handout where we discussed, what I though were the most important aspects of Digital Citizenship. I included the 9 elements, and we discussed them as a class, but I also used the graphic organizers.
We focused a lot on the definition of Digital Citizenship, but also the idea of digital health, netiquette, digital footprints and copyright. Similar to the article The persona, the false self, and the social network: who are you on Facebook, my students spoke about having profiles that did not relate to who they really were, and only showing their peers what they wanted to see, or having multiple profiles like in the article Having Multiple online identities is more normal than you think. I also had the students blog about our discussion. The students looked at the various topics we talked about. The assignment read:
We have talked about Digital Citizenship a lot. We discussed what it was, what role schools should play, why it was important, and how we can be mindful of our own digital citizenship. Based on our discussion, write a blog post describing the questions above. Use the handout we discussed combined with the 9 elements and your own thoughts. You must reference the handout/ elements at least 3 times. Remember: have personality, pictures, memes, and Giphy. You must proof read your post before publishing.
I received some good posts and connections:
We also had our first round of blogging for employability. I believe my students need to put more effort into their explanation of the week, but that comes with time and expectations.
We have just began our unit on digital citizenship, and overall I feel like my students understand the importance of the topic. I think they understand the benefits of being digitally literate, how they can make a positive or impact on the world, and how it will pay off in the future.  I just can't wait for the complaining to end!