Hello #eci832!
My name is Amy Ranford and I am 29 years old. I grew up in Regina and went to Winston Knoll Collegiate. Right after high school I started toward my degree in Education at the University of Regina. I finished my degree in December which was an awkward time to get hired.
Luckily, at a career fair at the U of R, I was offered a position in Rocanville. Now… if you have not heard of Rocanville, it is a small town south-east of Regina. It is about two and a half hours away, and although that might not seem far, it was quite the culture shock for this city girl. Let's just say the students had to teach me what a Combine was!
After the semester, I moved back to the city and was hired at the Adult Campus. This is a place for 18-21 year old students to complete their high school education. I am very grateful for my time at the Adult Campus because it led me to my current position at Campus Regina Public. It is very important that I link the two schools because we are often confused with each other. It is also my hope to teach people about Campus Regina Public and what we do.
Campus Regina Public, or CRP as we call it, is a career focused high school. We pair a core class with an elective to make education relevant and interesting for our students.
Some of the courses we offer are: Early Childhood Education, Health Science, Video Game and Design, Advanced Construction Technology, Welding, Cosmetology, and Graphic Arts (which our very own EC&I 832 classmate Anne Wells teaches). Each class is paired with a core subject such as Math, Science or ELA.
We not only prepare our students for their chosen career, but also how to be employable. Most importantly, CRP has industry partners who help us train our students in real life situations which helps them gain employment.
A student who chooses to come to CRP will go to their home school in the morning for period one, homeroom, then travel to us for two hours for period 2 and 3. The students then travel back to their home schools for the afternoon and CRP gets a different set of students for period 4 and 5.
My course is Auto Mechanics and English. I teach the English side of things, and my teaching partner teaches the Auto Mechanics side. We have about 40 students in each class. The students will enroll in either Auto 10, 20 A or B, 30 A or B, and pair it with either ELA 20, 21, A30, A31, B30 or B31. We split the class in half and for one day the students will work on customer cars completing repairs (for real, we work on anyone's car, so if you would like to inquire, our contact information can be found here!) and the other half will work on ELA.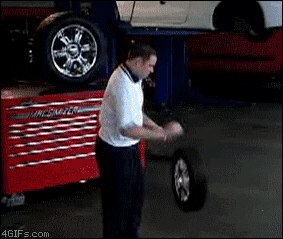 I like to call my class an Auto Themed ELA class. My students still read and write, but we do it in different ways. For instance, my students will write essays, including citations, but our topics are different. In ELA 20 the students write a persuasive essay. My students choose a vehicle and convince me to buy it. Or in ELA B30, students compare and contrast two vehicles. My students read, write, represent and view, listen and speak, but it is all geared towards Auto Mechanics.
My class is also lucky enough to have our corporate partners Capital Auto Mall. They allow our students to complete a work term, as well as hire many of our students. They have hired over 25 students and interview our students every semester. Our partnership allows us to teach students how to be employable, which is a hard concept for many of my students.  Capital Auto Mall adds another element to my classroom, and drives the students who truly want to become mechanics to work hard and learn the necessary skills.
Coming from the high school I did, where academics were stressed, I never thought I would love teaching in a trades based classroom so much. But I do. I love that my students see meaning in what they are learning, that it is relevant for their future, but most importantly, they are interested in my class and the content we teach. I enjoy going to work everyday. And that's all I can ask for!
That is a little bit about my school and my program. As you can tell I am pretty passionate about them both. I look forward to integrating technology, including blogging…which you can read about in my next post!